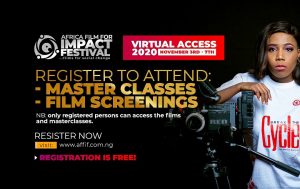 Some of Africa's finest filmmakers will be hosting a masterclass on different aspects of filmmaking at this year's maiden edition of Africa Film For Impact Festival (AFFIF) and Awards.
Film For Impact Foundation which is in partnership with High Definition Film Studio will hold the maiden edition of AFFIF, theme "Break The Cycle" via Virtual Access from November 3-7, 2020.
Speaking about the higly anticipated event, Bright Wonder Obasi, who is the Founder and Executive Director of Film For Impact Foundation & Fellowship, and Festival Director of Africa Film For Impact Festival (AFFIF), said; "Africa Film For Impact Festival is dedicated to showcasing, celebrating, and empowering films and filmmakers committed to social change themes in movie production across the continent of Africa and the world."
He said the masterclass which will be for established and upcoming male and female producers, directors, writers, actors who are passionate about impactful films, will be conducted via virtual access at the AFFIF 2020, and much focus will be on directing, cinematography, screenwriting, and acting.
"The hybrid Film Festival, which will screen short and feature narrative and documentary films with purpose over a 5-day period, will also host film premieres, master classes, panel discussions, workshops, and climax with an Impact Award ceremony, which will honor extraordinary achievements in filmmaking and driving social change through films."
Bright Obasi said, themes to be explored at the festival include Building Accountable Systems and Leaders for a Corruption free Society, Women Empowerment and Gender-Based Violence, Women in film, Human Trafficking, Human Right & Criminal Justice, Climate Change, The future of Film Distribution & social change contents, Reflections on the COVID 19 pandemic & Opportunities.
Application closes on Friday, October 23, 2020, by 11:59 pm wat, and viewers can subscribe to the festival Youtube channel @FFIF TV so they can get notified of upcoming events. They can also follow Africa Film For Impact Festival on Instagram, Facebook, and Twitter @affif.ng and @filmforimpactng. Only registered persons can join the masterclasses on zoom and access film screenings.
Award category at AFFIF 2020 includes; Screenplay, Cinematography, and Creativity (Director).
Stakeholders in both filmmaking and the social change sector are a major audience for this festival.